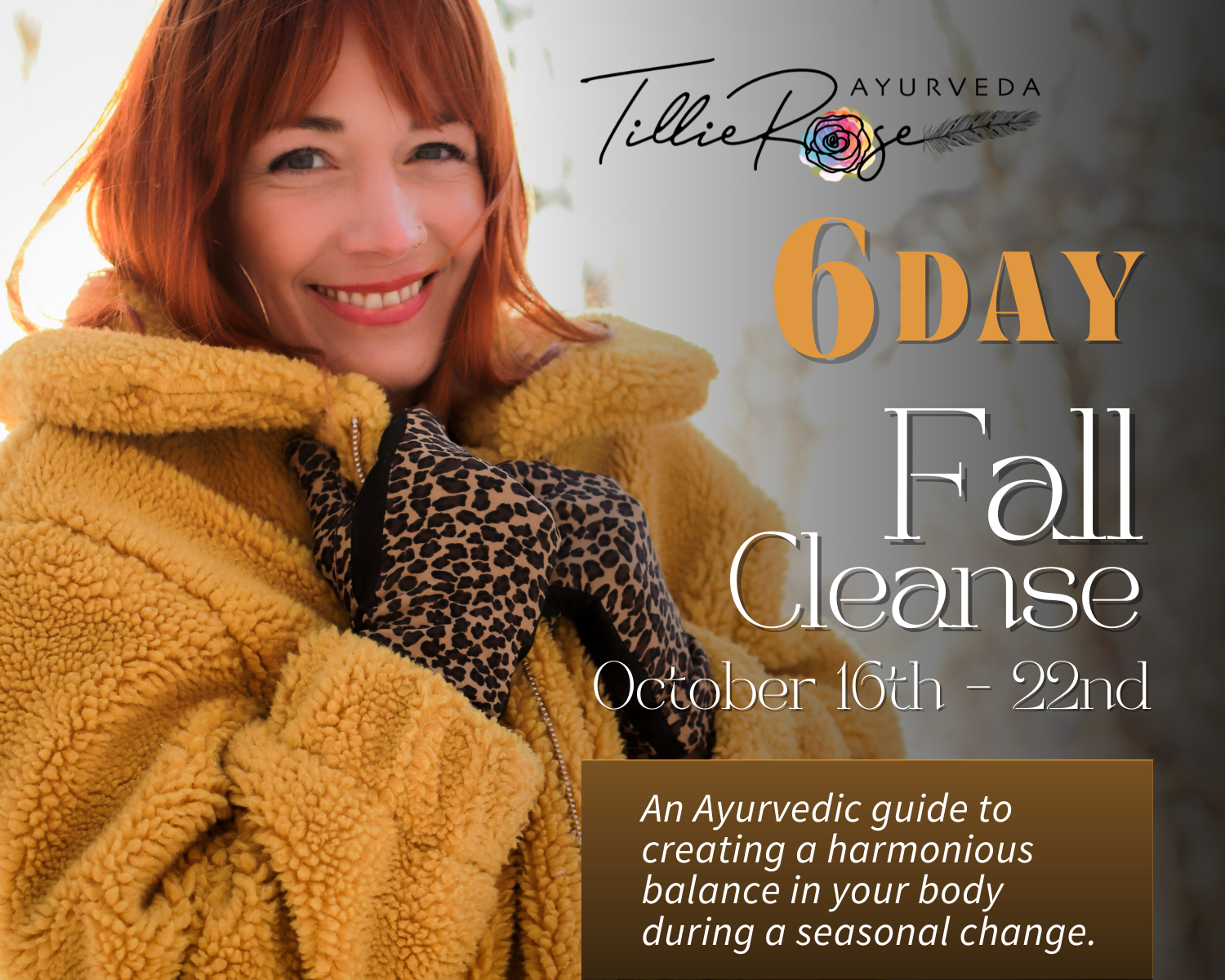 LIVE & INTERACTIVE 6 Day Fall Ayurvedic Cleanse | October 16th - 22nd
Regular price
Sale price
$57.00
Unit price
per
Sale
Sold out
Share
View full details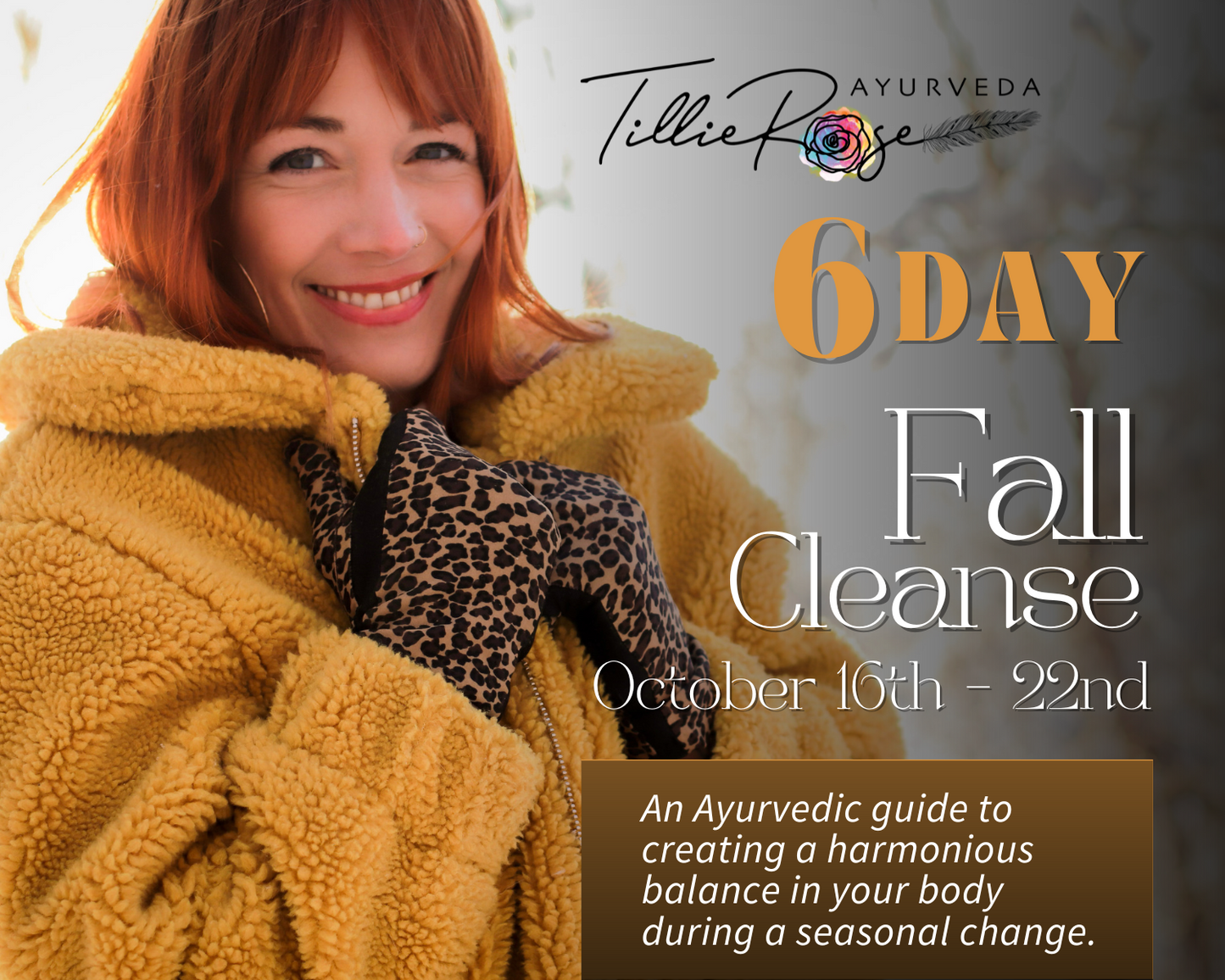 The practice of Ayurveda changed my life. And because of that I've created a 6 Day Live and Interactive Fall Cleanse and I'd love for you to join us!
During this time of year, we can often feel exhausted, depleted, sleep deprived and struggling to pacify these normalized symptoms. In Ayurveda we get to the root. This cleanse supports you in resetting your body, mind & spirit, reducing toxins, & inflammation, finding hormonal balance, optimizing your sleep, and reducing excess bloating and weight gain.
Based on the ancient healing practice of Ayurveda, which focuses on achieving balance and harmony between the body, mind, and spirit, this Fall Cleanse is designed to help you cleanse your body of toxins, improve digestion, and boost your energy levels.

Fall is Vata season.  After the sun peaks with the summer solstice, solar energy begins to wane and lunar energy increases with the fall equinox. This six-month cycle from the summer to winter solstice, known as dakshinayana, releases water and brings a much-needed cooling energy back to the earth. Autumn is marked by a sort of nostalgic change, a subtle entropy as all that peaked and bloomed returns to the earth in a quiet decay.
In a similar way, we bloom and then turn back inward for a period of our own inner rejuvenation.
Cleansing at the fall equinox offers a time to release accumulated heat after a long summer and, most importantly, balance and nurture vata dosha. Fall has the qualities of Vata dosha which is made up of the elements of air and ether (space). These qualities are lightness, movement, change, roughness, quickness and dryness.
Join us today!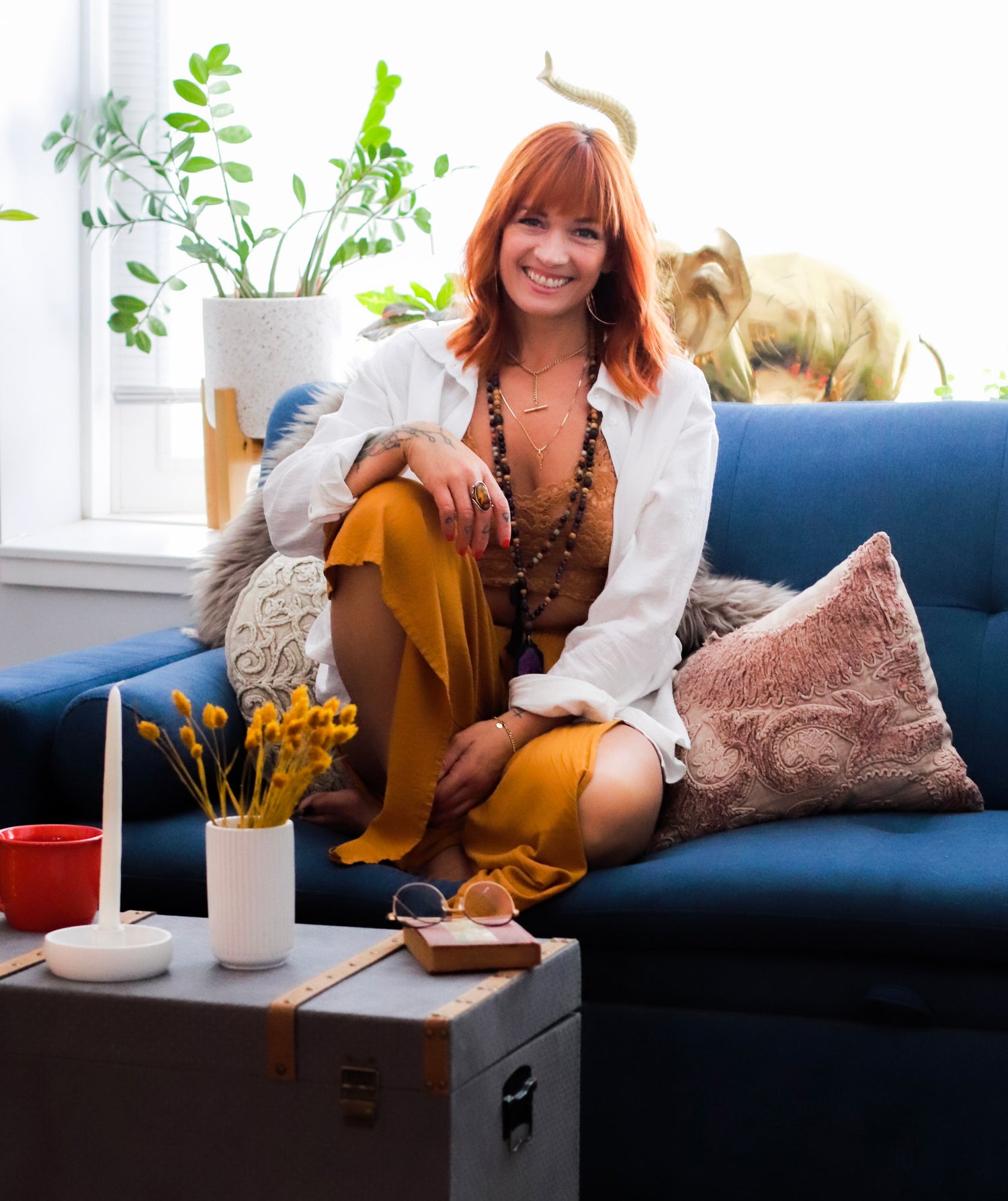 I'M AMBER
Ayurvedic Coach, Akashic Healer, & Yoga Instructor/Studio Owner.
It's my life's passion to teach women to empower themselves by inspiring a journey of healing and healthy practices for a lifetime of joy and fulfillment.
I completed my Ayurveda 500 hour training under Katie Silcox at The Shakti School. 
I have also studied the Akashic Records with Tara Preston at the Akashic Womens school and completed the Akashic Women's Guide Certification.
I am a certified yoga alliance teacher and completed my 200 hour YTT through Naked Truth Yoga. 
I am the owner of Oxygen Yoga & Fitness and have an amazing team and community who inspire me on the daily.
My offerings include 1:1 Akashic Sessions & Journeys and Ayurvedic Coaching through programs.
What is Ayurveda?
Ayurveda, a natural system of medicine, originated in India more than 3,000 years ago. The term Ayurveda is derived from the Sanskrit words ayur (life) and veda (science or knowledge). Thus, Ayurveda translates to knowledge of life.
The teachings guide and inspire us in living our life in the most healthy, beautiful and aligned way possible.
There are Three Pillars of Life or Ayurveda - FOOD, SLEEP AND SEX.
Proper digestion, proper sleep, and proper management of sexual activities. Eating, sleeping and procreating are essential to life, and when these three areas are in a healthful state of balance, the body and mind will reach their full potential for health and wellness.
It's from these pillars, that I've developed a 10 week In-person or Virtual program that supports you in achieving your full potential for health and wellness.
What are the Akashic Records/Field?
The term Akashic has its roots in the Sanskrit word "Akasha" meaning "ether" "sky" or "atmosphere." The Akashic Records are thought to exist in the ether – in the non-physical plane of existence.
They are like an energetic log for your soul.  In essence, when one's record is accessed with a guide, we are connecting with the soul of that person. It's a sacred space. One that is deeply personal, private and that spans all the lifetimes of a particular soul.
I have been trained as an Akashic Guide and I now offer 1:1 Akashic Sessions.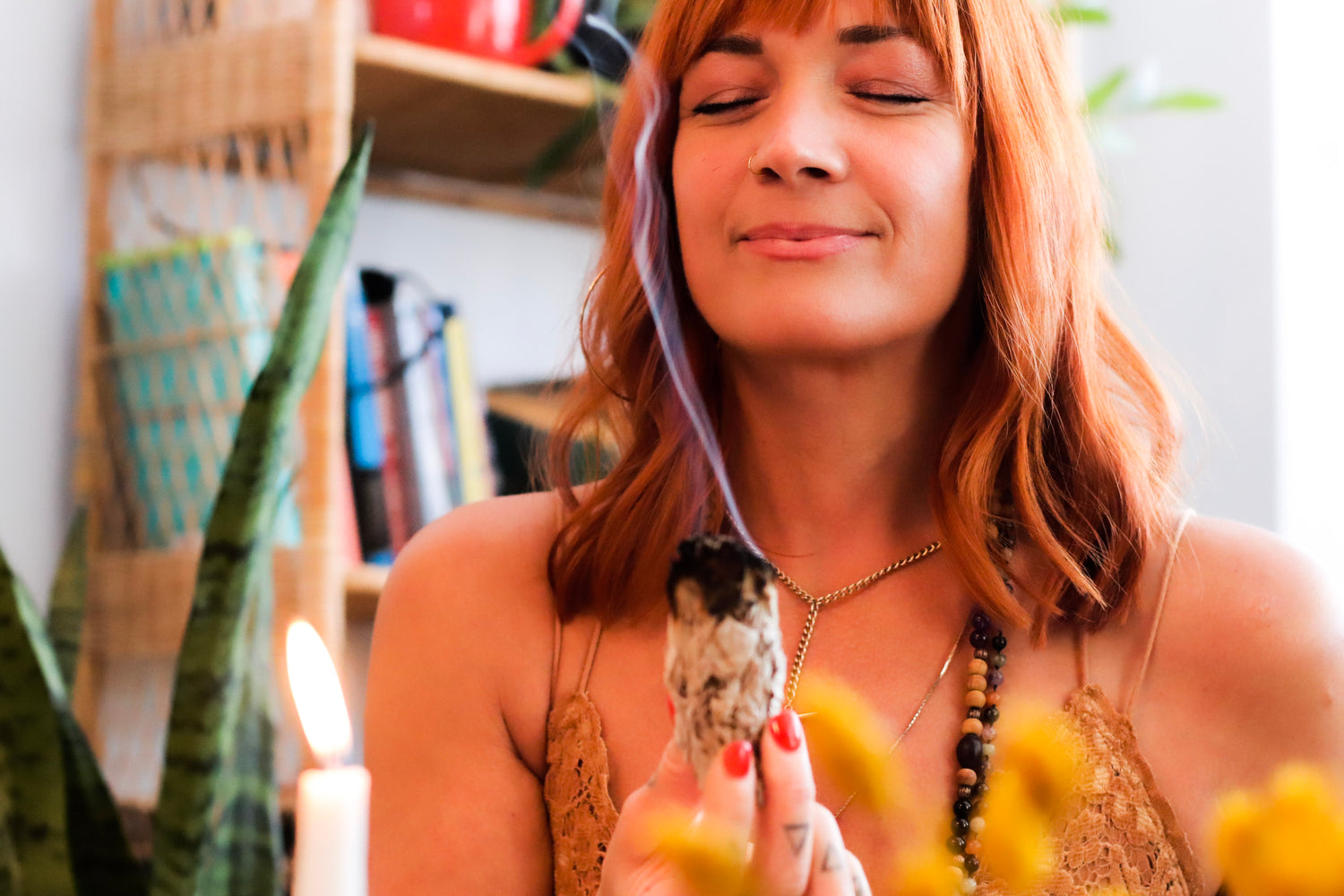 Tillie Rose
"We are a strong and powerful people.  Our tribe is full of healers.  We are thriving.  We live by the laws of nature.  The land is abundant and provides us with all that we need."
Tillie Rose Whiteford, my Great Great Grandmother,
came from a Metis family.  Which ensured that she would lead a diversified life.  She was a strong, thrifty and religious woman who believed in miracles and the power of prayer.  She was a practicing midwife and understood the powerful remedies that mother earth has to offer.  She was an educated woman and spoke many languages but mostly Metis, a blend of Cree and French.
Tillie had 11 children.  When one of her children became ill with pneumonia and close to death she became so fearful of losing him.  Tillie turned to the powers that be and prayed and promised that if his life would be spared she would devote her life to healing.  Tillie kept this promise and believed that miracles happen when an individual holds faith deep in their being and is willing to make sacrifices.
When a woman is called to this deep healing work, it begins with her.
It requires learning and unlearning, understanding her strengths, her challenges and untangling the very delicate root system of her foundation.  As we begin to heal ourselves we have the capacity to heal past and future lineage and the entire world.  I have found so much healing in learning about my ancestors. 
I am so grateful for the wisdom and teachings passed down.  The threads of this wisdom are woven into my entire being.  My work comes from a place of remembering and coming home to myself.  From this place, I offer you guidance, from this place I hold the torch and light the way for love.
Have Questions?
Schedule a 1:1 Consult either In-Person or Virtually with Amber.
Over the past decade, I have devoted myself to self-development in the areas of health and wellness. It has changed who I am at the cellular level. I have intentionally listened and learned.
It is through this learning that I have received the tools to create the teachings which I am called to share with you today.